EDITED to add: As of 12/4/13, my banner of my blog shows most of the houses that are up in my shop (and one just about to post) all together on my fireplace mantle as part of a Christmas/Winter Display. Aren't they adorable??
***
I promised better pictures, here they are:
These are the houses that are available in my shop as of today.
They make an impressive display on my book shelves in my bedroom.
This is the largest of the houses - it's beautiful. The paper on the front is the title page of the song - 'Savoyarde' by Carl Reinecke. It has the same dark red roof that the other two music houses have - all three look beautiful together.
Available in my shop
HERE
.
This picture shows the medium sized house inside the large house - they fit each other perfectly. You can put the small house inside the medium and then all three will take up the room of only one house. Great for storage and shipping. If you buy two or all three sizes I can combine your shipping. Convo me for details.
I very rarely make these big houses - this is currently the only one available. You can really show off the Antique Sheet Music with this house. So beautiful. You can store and play with some dollhouse furniture with this house. It is not for small children to play with, though - older children, maybe. ;) I think it looks great on a shelf or above a fireplace. Just about anywhere. Great at Christmas and anytime.
The lighting kind of washed out the color of the pictures a bit - it is darker in person and better able to see the music. I'm not sure why the pictures just don't do it justice.
Here are all three music houses together...
Not only do they nest inside each other - you could even stand them on top of each other - they balance easily on their chimneys. Not sure why you'd want to do that, but I thought it was cute so I thought I'd share it:
And don't forget the two little French Lit houses - they are still available right now, though the medium size sold out fast last month. I am making one more medium French house right now before I stop for the holidays and I don't know when I'll make more - they are very labor intensive.
And if you want more details on your house - this is in my shop as well...
It's covered in pages from a Vintage English book on composers. Very cute! It has black shutters, a Floral vintage design paper door and a button door knob.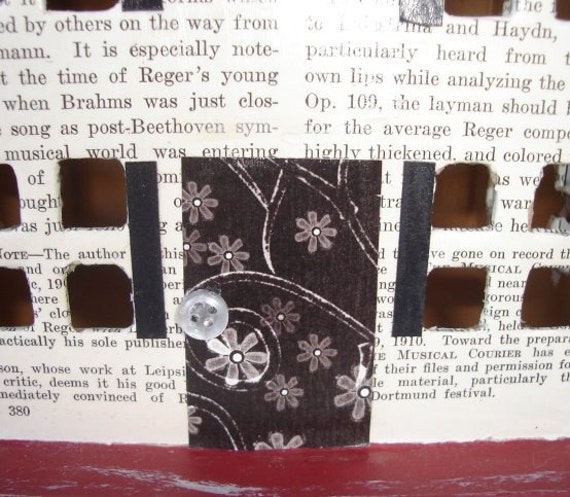 Maybe the Borrowers live there! ;)
Don't forget to buy Homemade and Upcycled gifts for Christmas! Support Small Businesses and give One of a Kind gifts...all available at 58Cherries on Etsy. ;)